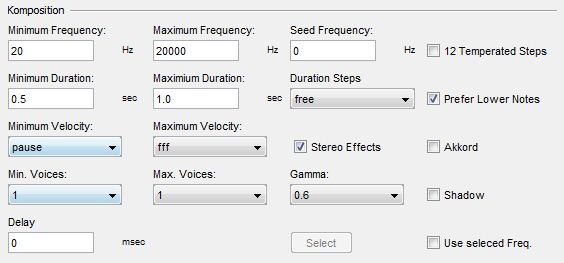 buttons are as follows:
Minimum frequency
Maximum frequency
Seed frequency
12 tempered notes
Lower tones preferred
Use selected Freq. connected with the button Select.
---
In the fields/windows minimum or maximum frequency you'll find a frequency scale.
Input of Frequency figures use whole numbers only. If you input nothing or 0, the program chooses a figure at random within the given frame.
But putting in a figure, here, only makes sense if it belongs to the predetermined minimum and maximum frequencies.
The seed frequency value is shown in the chart by a green line.
If you click 12 tempered notes only the twelve harmonious tones are selected.
Annotation: a MIDI file can only be generated if this window/button/input field is clicked on, otherwise only an orc and sco file are generated for further usage with Csound.
If you click Prefer Lower notes these notes are given a higher priority.
Clicking Use selected Freq. will automatically open Select. If you then click Selcect all tempered tones of the chosen minimum/maximum frequency are presented for selection.
The choice of tones – on the left hand side of the chart "possible frequencies"- is accomplished by clicking the arrow showing to the right. The so chosen tone appears on the chart on the right. If you wish to cancel your choice you have to click the arrow pointing to the left. The tone then reverts back to the left chart.
JCself only generates the artificially chosen tones according to the principle "choose the nearest tone" (according to the chosen ones by JCself).
Annotation: This feature is not provided at the first start. You have to run 12 tempered notes once completely in order to activate Use selected Freq.