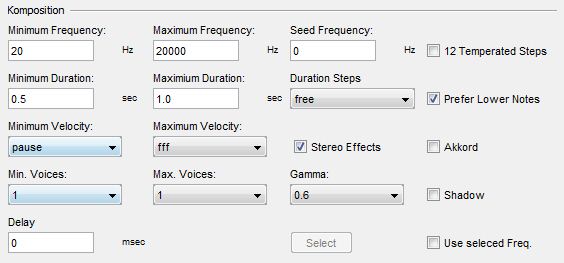 Further buttons are:
Minimum Velocity
Maximum Velocity
Stereo Effects
---
The buttons/windows Minimum and Maximum Velocity are to determine the latter "pause" has no sound volume.
The volume of melody tones is calculated by "shadow generating". JCself doesn't show it on the screen.
JCself cannot only generateone sequence of values but with activating shadow produce a second one, a "shadow sequence" which is not shown (non visible) by JCself.
The "shadow sequence" generates the values with the same settings as the original one. The "shadow sequence" values, however, differ (most probably) from the first sequence because JCself has chosen them at random.
When activating Stereo Effects a distribution and separation onto 2 loudspeakers is made possible automatically. It depends on the position of the topical and most often turned up value.